By July 2008 no one expected anything from an unknown player from mainland China (the first exempt player from China following in the footsteps of Li Ying Le). In her first 15 events on the LPGA tour Feng Shanshan had only managed to make 4 cuts, with T39 being her shining result in a season full of disappointment. Then seemingly out of nowhere she exploded.
It was certainly a tale of two seasons, after her 4th place finish at the Jamie Farr Owens Corning Classic set off a chain reaction within her. She snagged a second straight top 5 finish the following week (T4, State Farm) and three other top 10s for the season, out of nowhere finishing 2008 as the 38th ranked money earner on the year.
So much was expected of Shanshan after her strong play at the end of 2008, and watching her unable to break the top 20 in 2009 has been more then puzzling. Perhaps it's the pressure of being the only Chinese woman on the LPGA tour, and being one of the few faces breaking ground internationally in a sport that has a good chance in becoming an Olympic sport.
At the 2008 Beijing Olympics, the Chinese National Team performance was incredible. It is no secret the Chinese Federation puts a lot money and time into their young athletes, leading to a life of all sport and no play. We've seen the stories from Chinese gymnasts, divers, swimmers, plucked away from obscurity, taken away from their families, all to chase a dream that only so few will have a chance to pursue.
Now that golf will likely be an Olympic sport, it'll be interesting to see just how the most populous country in the world tries to gain footing in a sport that they have almost no history in. Will we see an influx of Chinese players on the LPGA tour, much like the South Koreans? Will they stay on their budding national tour? Will they need Shanshan to break through a la Se Ri Pak, or will this migration of players happen because of this Olympic addition?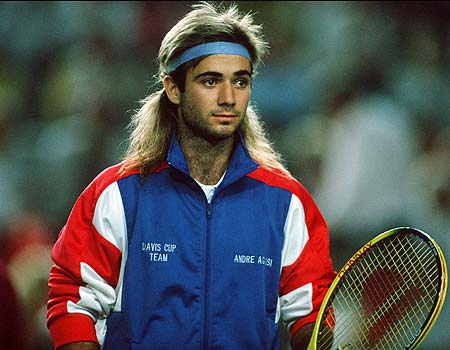 In the tennis world the Chinese National Team holds a firm hold on their players, choosing their sponsor, where they play, and who they play with. It wasn't until players like Li Na & Zheng Jie broke through into the top of the women's game that they finally released these players and allowed them hire private coaching, pick their tournaments, pursue their own contracts. These players still have to repay a portion of their earnings back to the federation, but their portion of prize money has only increased as they have gotten more successful. Here, at about the 2:45 mark, in Li Na's post-match interview after her quarterfinal loss to Kim Clijsters she talks about who here favorite player was growing up: Andre Agassi.
Why was he her favorite player, his freedom. His freedom to wear what he wanted, say what he wanted, and go where he wanted, something that Li Na was not afforded until just recently.
Feng Shanshan is independent, she is playing her own way, where she wants, as China had no had a major focus on this sport in previous years. With this Olympic addition, it'll be interesting if we'll see if new players from China will be like Feng, or Zhang Na (on the JLPGA) continue to play as they wish, or will it be more organized, and planned through the larger federation, or will the majority of the Chinese talent be playing only on the Chinese National Tour? Will a player like Feng or Zhang be considered for an Olympic team if they are not part of a bigger Chinese federation (assuming one is governing the Chinese golf team like in other sport)? The growth of golf China will certainly be an interesting one to watch in the years to come.