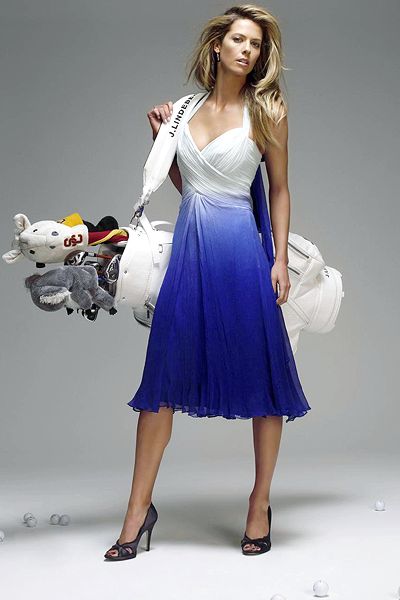 I don't know why the LPGA Board of Directors or any of us fans/bloggers/writers are even going through the motions seeking out the next LPGA Commissioner. It is quite obvious that person right and ready for the job has been sitting under our noses! Literally on the bottom, of the money list that is… Anna Rawson (what is it about women's sports and polarizing ladies named Anna?)! Clearly playing golf at a competitive professional level may not be in the cards for Anna, so why bypass years of toiling away with low priority status, when she could jump on up and take the Commissioner role?

While appearing on ESPN's E:60, she laid out a brilliant 5 point plan to help the LPGA Tour. If someone how you missed the model's appearance (how could you?!), you can read up on everything right here.

Let's go a little bit deeper on her statements!

1. ROCK THE TEE. Every player should tee off to her favorite song at the beginning of the tournament and have it played again when she approaches the 18th green.

Really Anna? Really? Let me preface all of her statements as she's clearly speaking from the young perspective and trying to reach out to a younger audience. As a 22 year old herself, I can see her appeal for some of these things. However nearly everything she recommends alienates her peers and a huge part of the LPGA fan base. Not so great. As much as I'd love to see Rosie Jones marching up the 18th tee to "I Kissed a Girl," or anything like that, it would clearly be a bother to the other players, not to mention how do we pick whose song in that group to play? Whoever is prettier perhaps?


2. BRING ON THE MEN. Some LPGA tournaments should be played in conjunction with PGA tournaments. Both tours would play on the same course during the same week — and at the same time — while still competing for separate titles.

Even though I can't begin to understand the logistics of an event like this, I do enjoy this idea in theory. Getting some sort of event where you can attract the best men and women in golf in the world is only a good thing. Not that trying to rely on the men's tour as a crutch at this moment is necessarily the best thing in pride terms, trying to figure a way to get this event to happen I think would be a huge benefit. They held the Boys and Girls US Junior championships together this week, I do believe this can happen in some way.

3. FASHION TO THE FAIRWAYS. For each tournament, I would have a fashion designer create a piece of clothing or accessory for the trophy ceremony. On Monday, the winner would be flown to Manhattan to shoot the gown, jacket or jewelry for an ad to be placed in a fashion magazine (Elle, Vogue, Glamour, InStyle).

I think this has a genuine heart to it, but the idea of a cookie cutter champion, stripping away their athleticism, and dressing them up to be Anna's idea of fashionable, is not exactly the right thing. Getting a spread in a fashion magazine, or any weekly non-golf publication, would bring publicity and good press for the tour. Trying to squeeze everyone into a Vera Wang gown isn't the way to do it. This is the fundamental problem with a lot of reactions to players right now, we are not ready to embrace the players for who they are. Usually the problem is that the player doesn't speak good enough English, and is too reserved. We should be embracing the differences in these women and highlight everyone for who they are. That's so much more empowering, and so much better for all the girls who are looking up to these athletes.

4. MARKETING IS THE BOSS. I would give the LPGA's VP of communications, David Higdon, a long-term contract and make him directly answerable only to the players. Higdon knows how to help the public connect with athletes.

I think it's a solid idea to have someone help marketing. Although I don't think ALL DECISIONS should necessarily be made by a marketing perspective. I think we're on the right track with this one.

5. READY FOR OUR CLOSE UP. Every group should be miked up and followed by its own camera crew, not a hard or expensive thing to do in this era of cheap, portable devices that can send images and audio around the globe in an instant.

I think having one or two mic'd groups every tournament would be an amazing thing! CK was great, but you need the right player to grab the mic. It's not going to be a good thing if you are mic'ing a group who is uncomfortable, and thusly not saying or being exciting at the least. Before we mic every group, perhaps we should get every tournament broadcast.

All and all I don't have nearly as many problems with her thoughts as I made it sound like at the top of the post. I just think her problem is she's thinking in a purely one-sided direction, and not taking in account the diversity of cultures and personalities (not to mention physicality) on tour. Everything she promotes to do, works in benefit for who she is.

I guess that's all and all to be expected. Anna will need all the help she can get, if her golf game won't get it done. Stephanie Wei (and I some how make even more comments) has her thoughts on this. I also posted some thoughts on Waggle Room.